- Advertisement -
As reported by the Metro, Manchester United target Victor Osimhen hinted at a possible summer move amid high concerns surrounding his future.

The Nigerian star has been outstanding for the Serie A powerhouse this season, making 28 appearances across all competitions while scoring 23 goals and dishing out five assists.
United and other elite European teams have taken notice of his form, and the striker has now welcomed the prospect of taking on a new challenge.
He said:
"I don't know what the future holds. I think I'm on the right track. At the end of the season, I will sit down with my agents and discuss everything."

"I will also be in talks with the club. I am incredibly grateful to Napoli. We will find a good solution together."
The 24-year-old is now in the midst of his finest scoring stretch. Napoli is in prime position to win the Serie A championship with an 18-point advantage thanks to his contributions.
Hence, Osimhen will be quite expensive this summer. There are already rumors that the Naples team may refuse to sell him unless they receive at least £132 million.
In our opinion, United should break the British transfer record for a striker because he might be the ideal long-term option. They are one of the top European clubs interested in his services.
Osimhen just turned 24 years old. He is in the prime of his career right now, so he can only become better. Without a doubt, Erik ten Hag will adore working with him.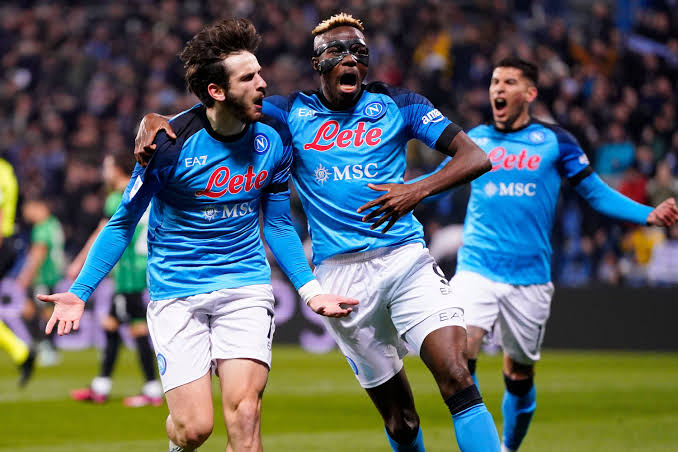 Osimhen is a threat to defenders with his aerial presence, has an excellent work rate, and is quick on the counterattack.
Despite having just one prolific goal scorer in Marcus Rashford, the Dutchman has done wonders for United this season.
The Napoli striker's signing would improve the club's chances of winning the Premier League. The striker wants to play in the Premier League one day.
If United were to make the Champions League, they would have an advantage over Chelsea in the race to sign him.

- Advertisement -