- Advertisement -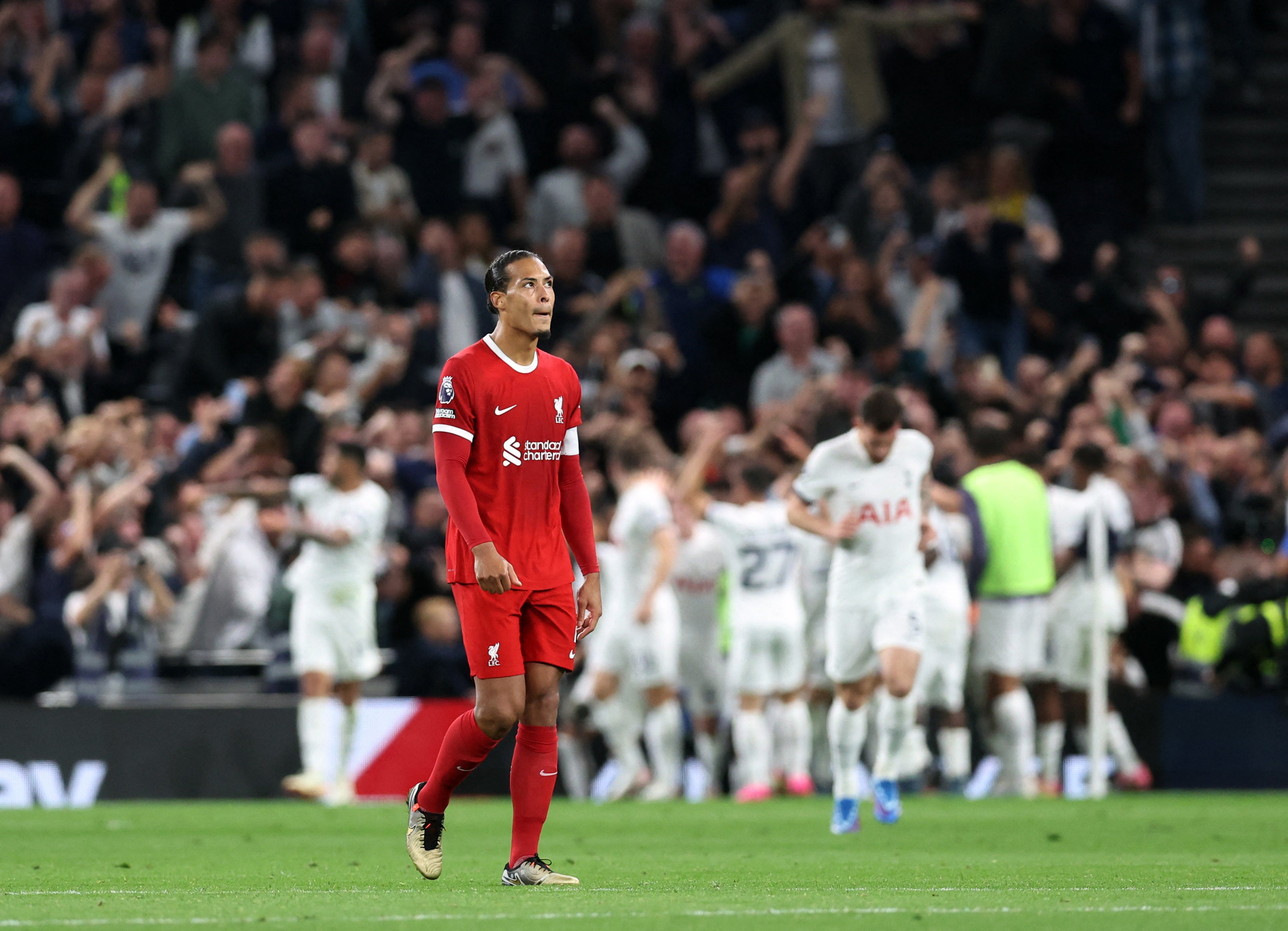 Sign up to Miguel Delaney's Reading the Game newsletter sent straight to your inbox for free
Sign up to Miguel's Delaney's free weekly newsletter
Tottenham face Liverpool in the Premier League as Jurgen Klopp's in-form Reds face their toughest test of the season at Ange Postecoglou's resurgent Spurs.
Both sides are unbeaten so far in the Premier League, with Liverpool winning five of their opening six fixtures to lead the challenge to Manchester City in the early standings. But Tottenham are only two points behind after battling back to a thrilling draw at rivals Arsenal last weekend, as James Maddison and Son Heung-min starred in the comeback.
Now Postecoglou's side face a Liverpool team who are also reborn from last campaign with a new-look midfield. Dominik Szoboszlai's stunning strike helped the Reds to their seventh win in a row in all competitions in midweek, and there will be talk of Klopp's side fighting for the title should they beat Spurs for the first time this season.
Follow live updates from Tottenham vs Liverpool in the Premier League below and check out the latest match odds here.
1696103796
PGMOL admit Liverpool goal should have stood after 'significant error'
Liverpool have been told they should have had the opening goal of the match in their late 2-1 defeat at Tottenham Hotspur, after a "significant human error" during the VAR process which should have checked the offside call initially given.
The Reds were down to ten men at the time after Curtis Jones' red card, but Luis Diaz ran through to beat Guglielmo Vicario to score what he thought was the first of the match.
An offside flag denied him and referee Simon Hooper blew the whistle to cut celebrations short, but replays showed Diaz looked onside – only for VAR to erroneously uphold the decision.
A statement released shortly after the match acknowledged that shouldn't have been the case and although no specifics were offered, relayed that another full review would be launched.
Karl Matchett30 September 2023 20:56
1696101618
Tottenham take their moment of fortune as Liverpool are left with only fury and frustration
Everything keeps going Ange Postecoglou's way, as Liverpool will argue everything went against them – not least Joel Matip's 96th-minute attempt to divert Pedro Porro's cross. That brought a 2-1 win for Tottenham Hotspur, who will doubtless say it came from the adventure they keep showing under the Australian.
Something bigger is happening at Spurs, as could be sensed in the raucous atmosphere after another late victory, but their biggest yet. They are level with Manchester City on points, only behind the champions on goal difference. Who would have expected that after the lukewarm response to Postecoglou's appointment at the start of the summer.
Liverpool might fairly say that would have been them ahead of City, had it not been for much smaller moments, that you might be able to bring it all down to once the season ends.
Jurgen Klopp's side endured two red cards – for Curtis Jones and substitute Diogo Jota – that they greatly disputed, as well as an offside call for a Luis Diaz finish that seemed the most borderline possible.
On such events seasons can swing. On the other side, strokes of fortune are often the sources of greater success, especially when you put yourself in the position to take advantage of that.
Miguel Delaney from Tottenham Hotspur Stadium:
Karl Matchett30 September 2023 20:20
1696101098
FULL-TIME: Tottenham 2-1 Liverpool
Liverpool boss Jurgen Klopp, speaking to Sky Sports: "I was never more proud of the team than today. I never saw a game like this with the most unfair circumstances, crazy decisions.
"We scored an own goal, that is really tough to take but I am really proud. The first red card, Curtis steps on the ball and goes over. Not a bad tackle.
"It looks different in slow motion. He steps full throttle on the ball and goes over the ball. That is unlucky.
"[For Diogo Jota] first yellow was not a yellow. Then he gets a second and to defend with nine players is tricky.
"You want to build something you need players with mentality and I saw them today, they fought. Pretty special tonight."
On Joel Matip's own goal: "It looks a bit like Destiny or someone had to put the foot there. Joel defended outstandingly well today. He put the foot out and it goes in the goal.
"There are worse things in life. That is how it is."
On Liverpool having a goal ruled out for offside: "The offside goal. That is not offside when you see it, they drew their lines wrong.
"The ball is between Mo's legs, they drew the line wrong and didn't judge the moment when Mo passed the ball right.
"It is so tough to deal with it."
Karl Matchett30 September 2023 20:11
1696099956
FULL-TIME: Tottenham 2-1 Liverpool
Postecoglou speaks post-game
The Australian gives his thoughts on the game, saying: "I'm trying to process it all at the moment. Fantastic to get a win…we did it late, it always adds that little bit of spirit and belief".
"Invariably, things aren't going to run smooth…days like today help build that. The way Liverpool play makes it difficult for you".
He says that they didn't handle it well when Liverpool lost their men, and that they "didn't vary our attacks enough".
"I'm being really picky. We're just in our infancy…it's been outstanding", he says. "You've got to enjoy the good times in football".
He gives Liverpool credit for their spirit, finishing by saying that he hasn't set any specific targets.
"My thing is we just keep pushing, keep improving and see where it takes us".
Chris Wilson30 September 2023 19:52
1696099583
FULL-TIME: Tottenham 2-1 Liverpool
Lineker reacts
Match of the Day's big name has had his say on the game.
Gary Lineker called it "unbelievable", adding that Jurgen Klopp "might have a rant". That disallowed Diaz goal looks especially controversial.
Chris Wilson30 September 2023 19:46
1696098857
FULL-TIME: Tottenham 2-1 Liverpool
And that's the final whistle!
Liverpool will be gutted, having played so well with both 10 and nine men.
Spurs looked to be out of ideas at the end, and it took an own goal for them to get the three points.
The Reds won't be too disheartened, though Spurs are absolutely ecstatic. Postecoglou will be taking another look at their performance against nine men, though they were excellent in periods.
Chris Wilson30 September 2023 19:34
1696098672
90 + 6' – GOAL! Tottenham 2-1 Liverpool
Unbelievable!
Spurs have won it at the death after an own goal from Joel Matip!
A period of Spurs pressure ends with Porro with the ball on the right-hand side. He blasts a cross across goal and Joel Matip turns it into his own net!
Chris Wilson30 September 2023 19:31
1696098520
90 + 4' – Tottenham 1-1 Liverpool
Some of the decision-making has been sub-par, with Hjobjerg taking a long-range shot that hits the first person in the box.
Kulusevski tries to curl a ball in, and it's deflected for a goal kick. Some frustration is starting to creep in as Alisson is booked for time-wasting.
Chris Wilson30 September 2023 19:28
1696098400
90 + 2' – Tottenham 1-1 Liverpool
Kulusevski is providing the main threat for Spurs now, with a couple of dangerous crosses.
Richarlison heads straight at Alisson after peeling away from Konate. It lacked any sort of venom.
Chris Wilson30 September 2023 19:26
1696098268
90' – Tottenham 1-1 Liverpool
Yellow Card and Substitution
Romero is booked for a foul as Liverpool looked to break.
Strangely, Maddison and Bissouma are taken off, replaced by Hojbjerg and Veliz.
There will be six minutes added on.
Chris Wilson30 September 2023 19:24
- Advertisement -