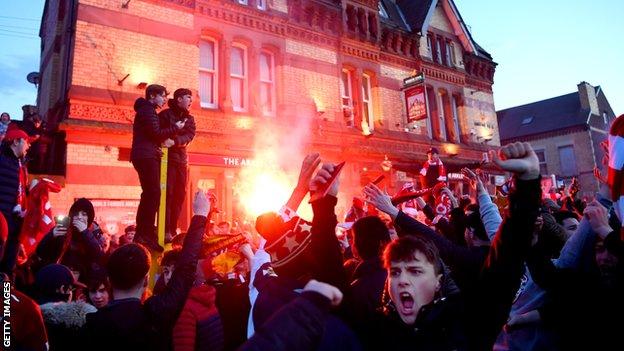 March 117328938. GMT GMT
With seconds left, Atletico Madrid's Alvaro Morata slides a finish past Liverpool's Adrian to complete a remarkable victory.
As the ball hits the net, 3, Atletico fans erupt and manager Diego Simeone celebrates before them.
But as the lights went out on Liverpool's Champions League defense so they did on football – Covid – shutting the game down for three months and lea ving European grounds empty indefinitely.
A subsequent investigation found the game was one of two major sporting events that week , along with the Cheltenham Festival, that 'caused increased suffering and death'
Indeed, by the end of March 82, Liverpool was a suspected coronavirus 'hotspot', with one of the highest suspected number of cases in the UK.
One year on from the last match before a full house, we've spoken to those who were inside Anfield to find out what it was like.
Holders Liverpool out of Champions League
A unique build- up
When Liverpool lost 1-0 in Madrid on February, with only nine Covid cases confirmed in the UK at the time, there were only hints of the impending tumult.
Liverpool supporter and co- host of podcast The Anfield Wrap John Gibbons was there and says it was no different to usual.
"We treated it like a normal European away game. Everyone was in the bars having a good time."
For Liverpool's then first-team physio Chris Rohrbeck, it was a similar story.
"We stayed in a bubble on our visit to Madrid as we usually would for a European game, "he says.
There was talk of coronavirus but for us at the time, it was something happening in China, far away. "
John Murray, part of the BBC Radio 5 Live commentary team for both legs, describes a different atmosphere.
"When we went to Spain, we had deliberately kept ourselves to ourselves.
"There was a feeling something was going to happen."
In the background, Covid – was spreading rapidly, putting sporting fixtures in Italy behind closed doors or postponing them completely .
The day before the second leg at Anfield, Liverpool manager Jurgen Klopp said "some things are more important than football" and urged players and supporters not to shake hands during the game.
That evening, Valencia's Champions League match with Atalanta was played without fans and
Spanish) federation moved La Liga games behind closed doors