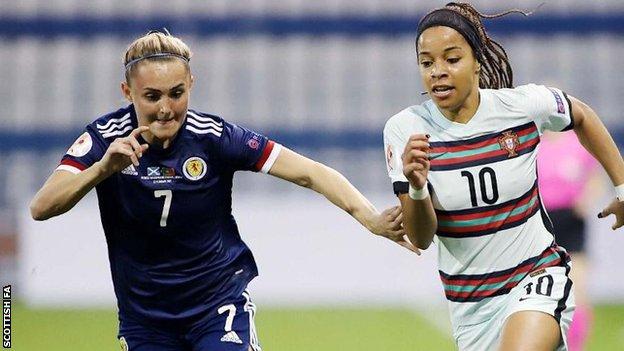 Scotland "battered Portugal 0-2" said interim head coach Stuart McLaren as they concluded their European Championship qualifying campaign with a disappointing defeat in Larnaca.
It was Scotland's fourth defeat in five games as they missed several chances.
Ana Capeta scored after a goalkeeper error from Jenna Fife, and Fatima Pinto doubled the advantage late on.
"They've played well without being effective in the most important part of game, scoring goals," said McLaren.
"The performance reflects what the team is capable of; they're a threat agains t anyone at this kind of level, but they have to have conviction to finish off that good play. "
Scotland finish third in Group E, with Finland qualifying for the finals in England as group winners and Portugal reaching the play-offs.
The defeat in Cyprus, where the game was being played due to the current Covid – a deflating group campaign for Scotland, who will not feature in the delayed finals next summer.

Reaction & as it happened

McLaren's side started with zip and energy y that would have been fueled by Friday's – 0 win over Cyprus, as their eagerness to move the ball with pace and purpose resulted in Claire Emslie flashing in a low cross for Erin Cuthbert who skied over.

18 Chelsea midfielder Cuthbert again fashioned an opportunity for herself, this time receiving a pass from Caroline Weir before gaining a yard and lashing a shot wide.

The Scots continued to press, as yet another sweeping move ended again with a dangerous cross from Emslie who found Martha Thomas, but the West Ham forward's hooked attempt towards goal forced a smart save from Patricia Morais.

Portugal's keep er was called into action again just moments later to parry over Cuthbert's drilled effort, but McLaren's side would be made to pay for failing to take advantage of their dominance in calamitous fashion.

Fife took a heavy touch from a Rachel Corise pass back, allowing Capeta to slide in and block the Scotland keeper's attempted clearance into the net.

The Scots responded well, as Weir tried her luck from distance before Thomas failed to divert a near-post flick on target just before the break.

Scotland continued to dominate possession in the second period, but – unlike the first half – chances were few and far between as Portugal defended admirably b efore doubling their advantage as Fatima Pinto hammered home in injury time to consign interim boss McLaren to a first defeat.

Scotland players 'devastated' – interim boss Stuart McLaren

Scotland interim head coach Stuart McLaren: "One of the key points was to dominate possession but have a purpose to it, and I think the players did that very well . Unfortunately, and it's maybe reflective of the campaign, we just did not have that finishing product often enough in the final third.

"We all know how important the first goal is in a game of football. We did not get it and we were obviously culpable in a sense. It's a good press from Portugal but we invited that press. The second one is purely trying to keep as many bodies up the pitch as we possibly can .

"" "" Disappointed in the result but really, really pleased with the performance in terms of the application of the aspects of football that we asked the girls to go and apply.

"Nothing has changed from my perspective. I was asked by the association to take on the interim role. I've done that now for the two games so unless anything changes then I'll go back to my role as the U national team on the men's team page. If something changes within that, I'll deal with that as it comes.

"There's obviously a process in place from the hierarchy to make sure that we get the very best candidate to be the new head coach of the Scottish women's national team and whoever that will be will be (revealed) in the course of time."