- Advertisement -
Manchester United keep purring along impressively under Erik ten Hag. This fourth consecutive Premier League win – and third clean sheet in a row – takes them up to 35 points and with Manchester City next at Old Trafford in the competition on Saturday week the manager and his team will hope to be as irresistible then.
United are only a point behind City, who have played two games fewer, yet Ten Hag shrugged off the question of whether his side are in the title race. "The belief is growing," he said. "But that is a big step. So, no. We have to go from game to game and make progress. Don't get too far ahead as it is January – not even half a season."
As a perfectionist the Dutchman did find fault. "We scored great goals and we should have scored even more but we could have conceded one or two and I am not happy with that because David [De Gea] had to make good saves," the 52-year-old said. We have to play more smart so that is the next step we have to make."
Ten Hag's back five of David de Gea, Aaron Wan-Bissaka, Harry Maguire, Victor Lindelöf and Luke Shaw had a retro feel about it – as if the current manager had invited his predecessor, Ole Gunnar Solskjær, to guest select tonight's defence.
A mark of an elite team is the ability to switch personnel and yet its structure and style remain. A solitary victory in nine previous league outings made Bournemouth ideal guinea pigs to test an XI featuring four new selections – Donny van de Beek was the other – plus what was an altered rearguard alignment, Shaw moving to left-back from centre-back, where he operated against Wolves.
When Bruno Fernandes switched the ball to Shaw and he dropped it on to Anthony Martial's head, the latter misdirected but this was a promising sign. As was how Casemiro raced back to slide-tackle Philip Billing: a free-kick was awarded – a little unkindly by Michael Salisbury – and justice was done when Jaidon Anthony blasted it wide.
United were suffocating Bournemouth and, after Marcus Rashford powered along the left and was tugged back, they scored from the free-kick: Christian Eriksen dipped the delivery on to the boot of Casemiro, who volleyed in.
Advantage United but the way they slumbered at a short corner, allowing Dominic Solanke a free header which he spurned, was an alarm call. United soon had Rashford charging down the right and Billing yanking over Casemiro for a foul. Eriksen fired the free-kick at goal but the visitors' wall rescued them.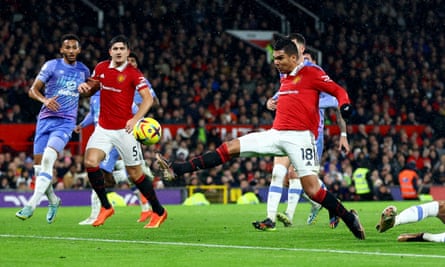 The half ended sourly for Van de Beek who was run into by Marcos Senesi and replaced by Alejandro Garnacho. 'We have to wait 24 hours before we can give a good diagnosis. It is a concern," Ten Hag said.
Garnacho began the second period by burning past Adam Smith and the lightning-fast youngster was to have a cameo role in a breathtaking United second that starred a buccaneering Shaw. The full-back began and ended the move, zipping at Bournemouth, passing to Fernandes who fed Garnacho. The 18-year-old crossed and there was Shaw, who finished with his right foot.
More enticing fluidity arrived when Martial dropped deep and skimmed the ball out wide, Casemiro eventually received the ball and his chip was headed wide by the French striker. United were strolling, as they did in last week's 3-0 win against Nottingham Forest, but Bournemouth were not finished. Twice De Gea had to save his side – with a hand to a Billing header and, later in the same phase, by repelling an Anthony effort.
On 68 minutes Martial was replaced by Anthony Elanga, the former heading straight for the tunnel. Ten Hag was optimistic about his No 1 centre-forward being unscathed. "Yes, I think so. You have seen he got a knock but he continued the game and then came off," he said.
Garnacho provided a moment of wonder when dipping a shoulder and clipping Mark Travers' left post. Then Rashford slotted in from a Fernandes pass for the coup de grace for a United who at the moment can do nothing wrong – next up are Everton in the FA Cup.
- Advertisement -