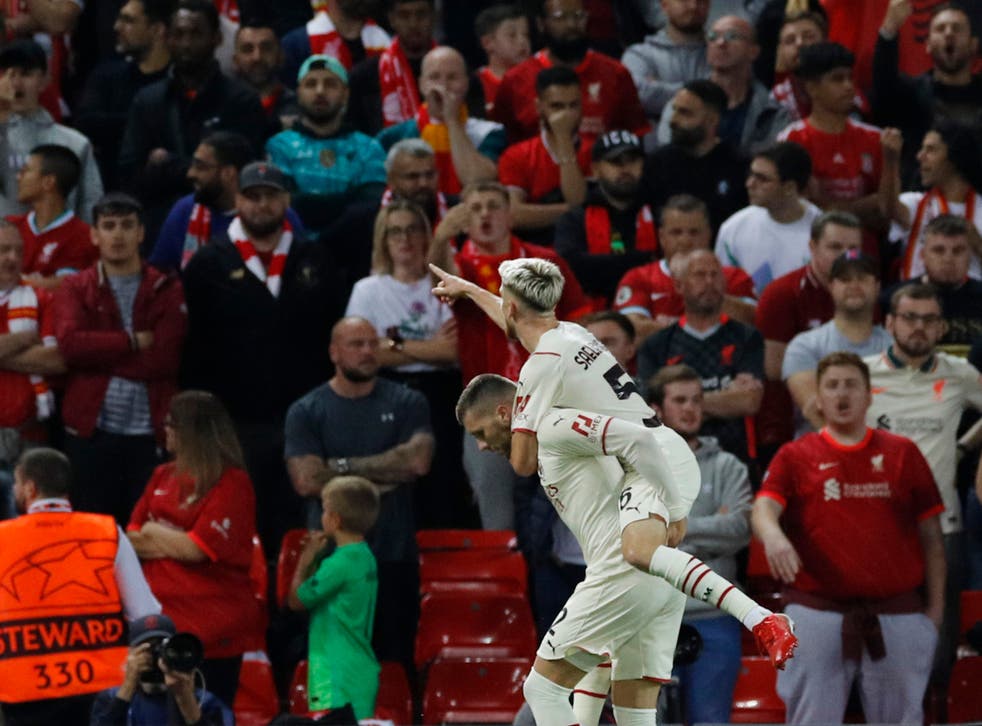 The Champions League continues tonight and Premier League side Liverpool start their group campaign at home to AC Milan.
Despite the two clubs being among the most successful handful of teams in European Cup history, they have only ever met twice in competitive games – the 2005 and 2007 Champions League finals. This occasion, then, will be a rather different one and a first visit for the Serie A giants to Anfield. Neither one has lost a match yet this term, with Jurgen Klopp's Reds in the group level on points at the top of the Premier League and the Rossoneri similarly positioned in Italy's top flight.
This fixture marks a return for Milan to Europe's top competition after a nine-year absence, while Liverpool were champions in 2019 and exited last year at the quarter-final stage against Real Madrid. They'll be hoping to go further this year, though, given the defensive absences through injury they had to cope with at the time and the subsequent signing of Ibrahima Konate to boost their ranks. Atletico Madrid and Porto round out the group.
Follow live updates of the Champions League Group B encounter between Liverpool and AC Milan below:
1631735611
Michael Jones15 September 2021 20:53
1631735506
Liverpool 1 – 2 AC Milan
A bit of admin to go through. Liverpool's goal has officially gone down as a Fikayo Tomori own goal instead of Trent Alexander-Arnold's first Champions League goal in 35 games.
Mo Salah failed to convert a penalty for just the second time in 19 attempts for Liverpool, with this his first since failing to score versus Huddersfield in October 2017.
Michael Jones15 September 2021 20:51
1631735334
Half-time: Liverpool 1 – 2 AC Milan
45+1 mins: What a half of football. The Champions League at its best. Liverpool dominated. They attacked, attacked and attacked but only managed to score the opener. Mo Salah missed a penalty and then in the space of two minutes AC Milan broke the Reds down twice and take a lead into the break. Jurgen Klopp won't be able to believe what he's just seen.
Michael Jones15 September 2021 20:48
1631735121
GOAL! Liverpool 1 – 2 AC Milan (Diaz, 44')⚽️
44 mins: Huge turnaround! Leao drives the ball into the box before slipping it to Rebic. He squares it into the middle where Hernandez meets it on the volley. He whacks it at goal but Robertson blocks it on the line. The rebound comes out to Diaz who taps it into the open net and now AC Milan have the lead! Unbelievable.
Michael Jones15 September 2021 20:45
1631734943
GOAL! Liverpool 1 – 1 AC Milan (Rebic, 42')⚽️
42 mins: Where has this come from?! Brahim Diaz is allowed time on the ball in midfield and he turns it towards goal before sending a pass into Kessie. He dinks it to Leao who slots the ball into the box where Ante Rebic arrives to fire the ball past Alisson and give Milan an equaliser!
Michael Jones15 September 2021 20:42
1631734862
Liverpool 1 – 0 AC Milan
38 mins: Salah underhits a pass into Origi which allows Tomori to nip in and win the ball. He gets there first but leaves a bit too much on Origi with the follow through. The striker goes down clutching his leg and there's a break in play while he recovers.
Michael Jones15 September 2021 20:41
1631734547
Liverpool 1 – 0 AC Milan
35 mins: Liverpool win back-to-back corners but nothing comes of them as Milan solidly defend the crosses into the box. The reds have had eight corners in this half. It's a testament to Milan that they're only one goal down.
Alexander-Arnold is brought down over to the right side of the Milan box. Robertson curls the set piece into the middle, the ball comes over to Jota but Calabria beats him in the air and heads the ball away.
Michael Jones15 September 2021 20:35
1631734319
Liverpool 1 – 0 AC Milan
32 mins: We've got a game on at Anfield. No sooner have Milan penetrated Liverpool's penalty area that they're being countered by the Reds. Four or five Liverpool players sprint forward as Keita drives the ball up the pitch. He gives it to Henderson who finds Salah just inside the box. Salah stops the ball dead then clips a shot at goal forcing Maignan to parry it over the crossbar!
Michael Jones15 September 2021 20:31
1631734204
Liverpool 1 – 0 AC Milan
29 mins: Here we go! Milan respond with a ball over the top and a run down the left from Rafael Leao. He takes control of the ball and fires a cross into Saelemaekers. The midfielder squares a pass into the arriving Theo Hernandez but his shot from the front edge of the box is blocked by Alexander-Arnold.
Michael Jones15 September 2021 20:30
1631733988
Liverpool 1 – 0 AC Milan
26 mins: The game finally seems to be settling down. There was no way Liverpool could maintain that tempo. It was non-stop attack for 20 minutes.
Milan take over possession and string together a few passes around their defence. They aren't going very far and a long ball up the pitch is dealt with by Joe Gomez.
Michael Jones15 September 2021 20:26