- Advertisement -
You can tell Manchester United are back to business already when a press conference begins with Erik ten Hag being quizzed over Harry Maguire.
With Cristiano Ronaldo gone, Harry Maguire has become the new obsession for reporters at press conferences to quiz the Manchester United boss over.
The centre-back was left on the bench for games against Barcelona and Newcastle, which was not particularly surprising, considering he appears to be fourth, or even fifth choice at this point.
As club captain, there is extra attention on Maguire where the media are concerned, which drives further discussion on his place in the England squad.
READ: Five things we learned as Manchester United win the Carabao Cup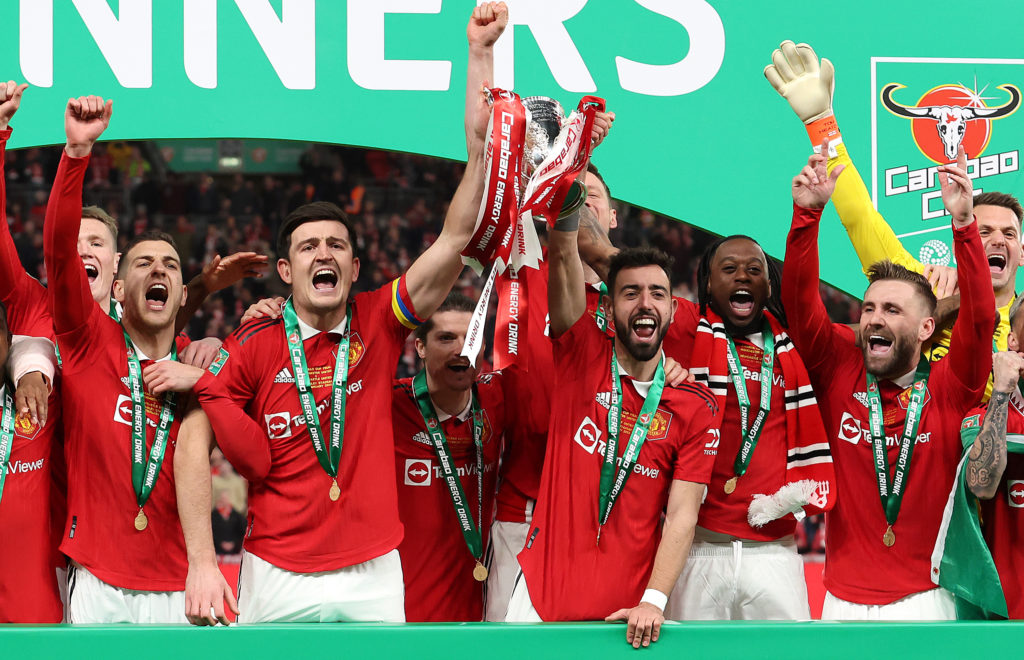 Erik ten Hag was quick to shut down questions over Harry Maguire, and from a wider perspective, made the point that the entire squad contributed to the Carabao Cup final success.
Maguire made four appearances during the Carabao Cup run, starting two matches along the way to the team winning the competition.
Ten Hag said, via the club website: "Let's make myself clear, we didn't win with 11 players, we did win with a squad, and I think the squad is already, the whole season, so important.
"Every time players are coming in [to play], if it's for the whole game, for minutes or a couple of games, I think also during games we can change the dynamics.
"We do it with many more than 11 players, so I count on them, and I know they will be ready because every time players play games, they take responsibility and it's about that."
Ten Hag was also very firm that he will pick the best players for his set up, and won't be influenced by reputations or other factors.
He said: "The players who form the best teams will play. Also, for Maguire, when he plays well, he can come into the team."
Harry Maguire lifted the trophy at Wembley jointly with Bruno Fernandes, who has captained the side when Maguire has not been selected.
When Ten Hag was pressed further to ask if there was any visible disappointment from Maguire not to have been starting, leading to a lack of enjoyment on the occasion, he shut that down too.
He said: "It was not my perspective from the celebrations, I think everyone was involved and everyone was happy.
"Everyone had the idea, we did it collectively and not individual or one, two, three players did this. It was the performance of the whole team, of the whole squad."
This is backed up by the celebrations, where every Manchester United player looked overjoyed to see the club ending a six year trophy drought, Maguire included.
He has been through a lot during his captaincy, including some near misses. If he does leave the club in the summer, he can say he did win a trophy during his time at the club, and that it was not a complete failure.
Maguire came on for the final few minutes at Wembley and helped United see out the game and keep a clean sheet.
The centre-back could be back in the line-up against West Ham in the FA Cup this week, with United expected to rotate ahead of a Premier League trip to Liverpool at the weekend. It is a perfect chance for Ten Hag to utilise his squad.
Harry Maguire's view
Harry Maguire was asked about the situation by the press after Manchester United's Wembley win, and gave a candid view of the situation, saying he has a good working relationship with Erik ten Hag and is ready when called upon.
He was quoted by Goal: "I'm a footballer who wants to play games and I want to lead the boys out of the tunnel at the start of the game, but also I understand this is part and parcel of football when you play at the top level and you have got huge competition for places.
"I think he [Ten Hag] has been asked numerous times about my role in interviews and he tells me honestly, he believes in me, but this is football. This is Manchester United. We want to win trophies, and big trophies and to do that you need competition for places.
"The manager speaks to me daily and he really respects me and believes that I am a top centre-half with all the attributes to play in his team, but also he understands that the players who are playing – and I understand that the players who are playing – are playing very well."
There is plenty of football for Maguire to contribute to between now and the end of the season, with United fighting for three more trophies.
The defender's situation can be re-addressed in the summer. A parting of ways may be sensible, but until then, don't expect either United or Maguire to rock the boat.
In Erik ten Hag, Manchester United have a manager who won't stand for it, from the player, or the press.
Have something to tell us about this article?
Let us know
- Advertisement -