- Advertisement -
As stated by the Daily Mail, Manchester United defender Harry Maguire put in a strong performance in the team's 1-0 Premier League victory against Luton Town at Old Trafford.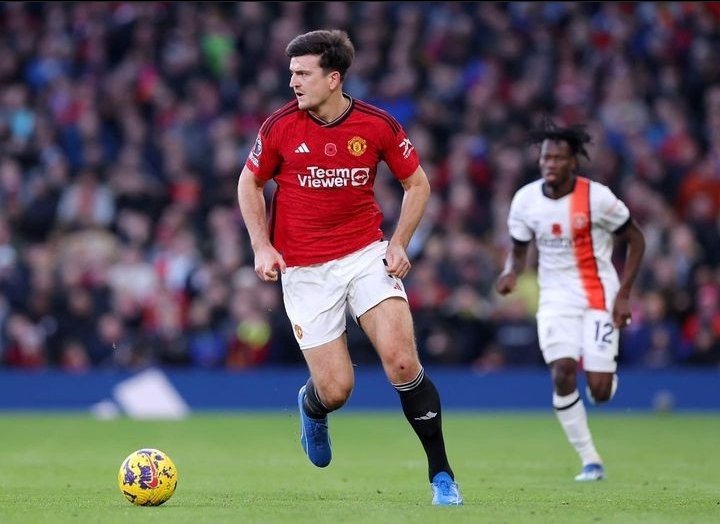 Despite a midweek Champions League defeat, the Red Devils secured a win, although their performance in the attacking third was not entirely convincing.
United dominated possession and created more chances in their recent game against Luton Town, but they struggled to convert opportunities into goals throughout the 90 minutes.
Victor Lindelof's goal at the hour mark ultimately made the difference in the 1-0 victory, though fans had hoped for a more convincing win.
Despite the less-than-perfect performance, there were positives to take away. Maguire continued his strong league form, delivering a solid defensive display alongside Lindelof.
Must Read: Alejandro Garnacho avoids getting suspended by FA over Gorilla emoji
While the former captain faced some nervy moments in the first half, he showcased solidity after the interval and took control defensively.
Additionally, the English ace impressed with his long-ball distribution, a facet that garnered praise on social media from the club's supporters.
Maguire made a significant impact with 97 touches and 78 passes, showcasing a passing accuracy of 91 per cent.
He completed nine out of 13 long balls and contributed three clearances and three blocks. Manager Erik ten Hag has consistently favoured Maguire over Raphael Varane in the right centre-back position, and the former has proven to be a valuable asset in recent weeks.
Also Read: English ace Jadon Sancho removed from Manchester United's WhatsApp group
Despite being a fringe player during the last international break for United, the centre-back is now considered one of the undisputed starters as the upcoming break approaches.

- Advertisement -