- Advertisement -
Erik ten Hag usually keeps his technical area to himself, but when Marcus Rashford's shot found the back of the net 14 minutes from time at Molineux, the Manchester United manager couldn't keep his emotions in check.
The Dutchman jumped Into the air in Wolves' expansive technical areas before punching the air and celebrating with his coaching staff. It could have been joy at what seemed to be the ideal outcome for Ten Hag after initially dropping Rashford, but it felt more. This was a tough, gritty victory in a season that is gaining steam.
United moved within four points of Manchester City with their third consecutive Premier League victory. Ten Hag and his players would have been content with that outcome at the start of the season, but Arsenal's unexpected surge under Mikel Arteta has likely already eliminated title talk.
That's not necessarily a bad thing, because under Ten Hag, United are clearly ahead of schedule. Even if first place is out of reach, this is still a promising campaign. By the end of next week, they should be in a Carabao Cup semi-final, the FA Cup fourth round, and looking forward to the Europa League tie against Barcelona.
Ten Hag's victory at Molineux was unquestionably a triumph. His decision to bench Rashford for oversleeping and being late for a meeting sent a clear message to his team about the high standards he expects. He then introduced the forward, who scored the game-winning goal in a game that didn't appear to be headed in that direction. Matches between these two teams have a history of being low-scoring and boring. This was no different. United had a couple of good chances, particularly through Alejandro Garnacho in the first half, but with 20 minutes remaining, it appeared that a goalless draw was the most likely outcome.
United, on the other hand, arguably won because they have a player in brilliant form and full of confidence, as well as because they have developed a winning habit. Winning breeds winning, and that is exactly what happened in the Midlands. This felt like a game that neither Ole Gunnar Solskjaer nor Ralf Rangnick's United teams would have won.
United are starting to find their way under Ten Hag, thanks to an improving defensive record. The addition of Casemiro has been critical to the defensive progress, and Ten Hag's coaching of Rashford has revitalised the 25-year-old.
It's a long way from August 13 and the 4-0 loss to Brentford. The goals were scored in 35 minutes that afternoon, and United melted on the hottest weekend of the year. They appeared to be a million miles away from being a good team.
However, they have taken 32 points in 14 games since then, a return that would translate to 86 or 87 points over the course of a season. United's all-time high since Sir Alex Ferguson's retirement is 81 points, and after a slow start, they need 49 points from their final 22 league games to match it. That appears to be attainable at the moment.
Given the chaotic mess Ten Hag inherited, that would be an incredible accomplishment. The transfer window cost more than £225 million, but it was money well spent.
Fabian Ruiz plays on the left side of the double pivot in Luciano Spalletti's 4-2-3-1 at Napoli along side Zambo Anguissa. The 26 year old also plays as a left-sided 8 in Spalletti's 4-3-3 formation, where I believe he could play for Erik ten Hag's Manchester United side. pic.twitter.com/YsEtjBudT8

— Jack Fawcett (@JackFawcett1704) May 17, 2022
They have a solid spine, which is essential. Raphael Varane and Lisandro Martinez form an elite defensive partnership, and Casemiro, Christian Eriksen, and Bruno Fernandes form a formidable midfield trio. Rashford is on fire right now, but the biggest area for improvement is adding more of a threat in the final third.
It's still early days for Ten Hag,"but this feels like United's best position since 2013. Yes, they finished second under Jose Mourinho in 2017/18, but they were 19 points behind a record-breaking Manchester City team, and Mourinho has never been a long-term project builder. It was the end, not the beginning.
Arsenal is having a fantastic season, but they are not at the level that City was at at the time. Pep Guardiola's team appears to be insecure at the moment. This season, they've already lost to Newcastle, Aston Villa, Brentford, and Everton. However, bring in a forward or get lucky with injuries, and this is a season that offers plenty of hope. Finishing in the top four and winning a trophy will have exceeded everyone's expectations back in August.
Tactical play against Chelsea
Erik ten Hag summoned Bruno Fernandes to the touchline after Jorginho converted from 12 yards to put Chelsea ahead. Manchester United's manager placed one hand on his player's shoulder and gestured from right to left, from defence to attack.
Fernandes ran to Luke Shaw and then Diogo Dalot to relay the instructions after the six-second conversation. Ten Hag appeared to want his full-backs to get forward and wide in order to deliver balls into the box. Seven minutes later, Casemiro rose to head home Shaw's cross, just moments after Chelsea had cleared a low centre by Dalot from the opposite flank.
Putting the ball in the mixer isn't a novel idea, and if Kepa Arrizabalaga had laid a firmer glove, Ten Hag's intervention would have been a footnote. Whatever the final outcome, the point is that the Dutchman has clear ideas and communicates them clinically.
Ten Hag was frequently enraged by what he saw, despite United controlling large periods of the game and maintaining 52 percent possession overall.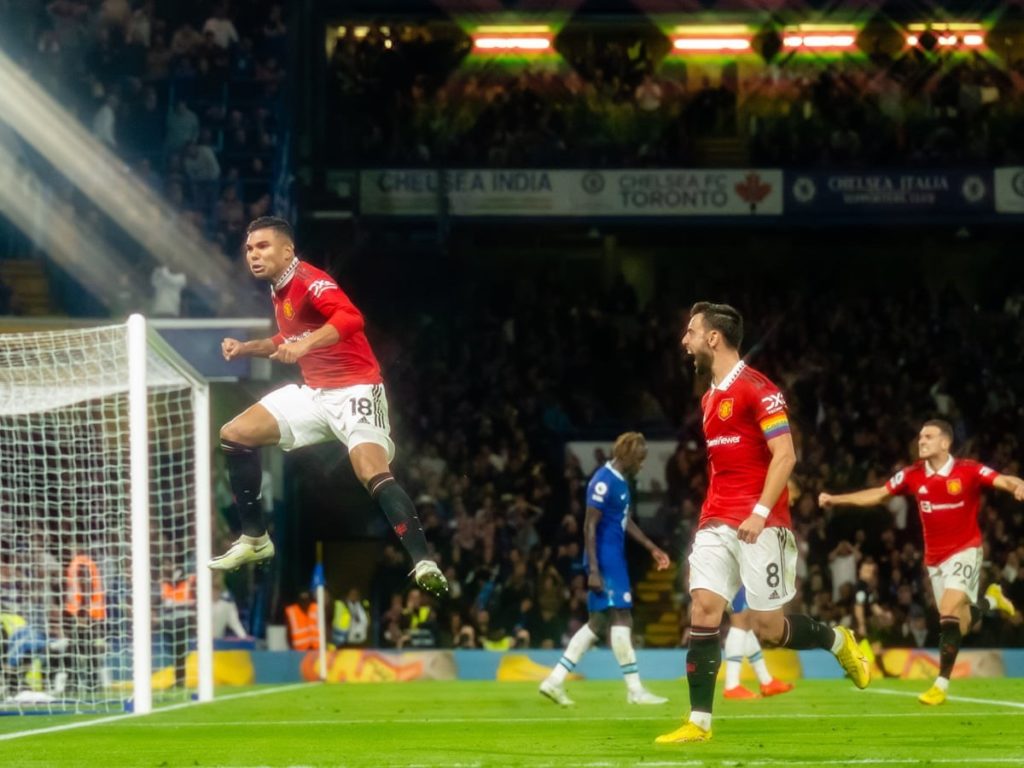 Ten Hag became animated when Victor Lindelof drove a pass from back to front for Marcus Rashford to chase — a combination that has previously resulted in goals. Even though United turned over possession again due to good pressing, resulting in a Fernandes shot, Ten Hag appeared to demand that moves be constructed through midfield rather than going direct. (In the first half, United dominated the centre of the pitch, thanks in part to their numerical advantage, before Graham Potter made a substitution and switched formations).
Even before Ronaldo's public disregard for squad unity, he had questioned Ten Hag's methods at Carrington by questioning certain pressing drills. Doubt from a powerful player has an impact on a manager's ability to coach. If there is a hint of rebellion, teammates may not respond as instinctively to instructions from the dugout.
Ten Hag walked away after the final whistle, leaving Steve McClaren to speak with Attwell and his assistants. McClaren's demeanour was lighthearted, but his head tilted to the side indicated a grumble.
Ten Hag consults Mitchell van der Gaag about in-game systems. They talked a lot at Chelsea. Ten Hag used a handheld tactics board to walk Fred through his role before bringing on the Brazilian in place of Jadon Sancho to give United a boost in midfield.
However, there is something to be said for launching the ball into the area in the hopes of something spectacular happening.
Style of Play- 4-2-3-1
Erik Ten Hag has been adamant about using a 4-2-3-1 formation to get the most out of Bruno Fernandes as a true '10'. Some games may necessitate adjustments against specific opponents, but Ten Hag has rebuilt his team around the Portuguese starlet and is reaping the benefits. But to say it's a one-man show would be absurd, and Fernandes would agree.
From a United standpoint, Ten Hag has improved almost every single player in the starting lineup from last season. We've seen a rapid rise in Diogo Dalot's clever, attacking intensity; a revitalised Scott McTominay under the pressure of Casemiro hanging over his head; and Marcus Rashford back to his best. The new signings have also been well (and quickly) integrated, with Tyrell Malacia, Antony and Lisandro Martinez all playing important roles to begin the season. After adjusting to life in the league, Casemiro has grown into his 'Midfield Destroyer' role at the club and has been everything we could have hoped for – that missing piece to the puzzle in the Fred-McTominay era.
While different pressing formations (such as 4-1-4-1 or 4-4-2) may emerge, Ten Hag has consistently deployed a lone centre-forward in every match this season. Anthony Martial is gradually regaining confidence as a result of Ten Hag's faith in his ability, but we can also expect Marcus Rashford to continue operating up front to make the most of the team's quick attacking transitions. That could mean that 18-year-old Alejandro Garnacho breaks into the team in the second half of the season, or that Jadon Sancho returns after being frozen out by the manager in recent games.
📌 Erik ten Hag's Manchester United in Pre-Season:
– 433 formation
– Structure in 1st phase build-up
– Dynamic use of fullbacks
– Downstream benefits for attackers pic.twitter.com/PLtEpUZkdz

— Jamie Scott (@JamiescottUV) July 17, 2022
United on Attacking Tactics
It's been far more intentional and free-flowing under this approach than under previous managers, and generally less patient out from the back. Christian Eriksen's excellent debut as the team's 'Tempo Setter' in the centre of the park has contributed to this. The Dane is still unafraid to play the risky pass over the top, can switch play on a dime, and, most importantly, has reduced the need for Bruno Fernandes to drift deep to gain possession. Fernandes likes to float toward the ball, make a half-turn, and then slice open the opposing defence with a beautiful long pass.
Casemiro, a brazilian midfielder, has played more progressive passes (4.94 per 90) than Fernandes and Eriksen and always provides a calming presence when he's on the ball. The red devil front-four can then explode their fire on the break with the solidity of Casemiro in behind, preserving Ole Gunnar Solskjaer's team's one net-positive feature.
Many of United's goals have come as a result of their explosiveness on the break, where Bruno Fernandes' imagination can flourish and Rashford's willing running power completely destabilises any opposition defence.
Antony is fantastic at working the ball onto his left foot and opening up shooting angles, and his approach is completely consistent. He'll shoot from any distance at any time, but only after shifting and shimmying the ball around to throw the defender off guard.
Rashford's destructive out-and-out speed in behind has made him an excellent foil down the other wing (or even up front). Regardless of position, the British forward is the first outlet in transition (often from a piece of Fernandes incisiveness), and will run the channels to encourage looping passes over the top. This means he'll likely develop into a creative role as the season progresses, as other players finish off the opportunities he creates by galloping up the wing. This could be extremely beneficial in allowing Bruno to increase his scoring total this season, as he frequently sneaks into the penalty area unnoticed.
Luke Shaw has long been a powerful ball carrier, and he will join attacks for fun to complicate matters down that side. Malacia has generally maintained a more defensive stance and approach, and we can expect Shaw to regain his top-tier form now that the Dutch defender is breathing down his neck.
United on Defensive Tactics
Manchester United typically defends from the front in a 4-2-3-1 formation, with relative vigour and intensity in forcing errors from their opponents. As one central midfielder steps up on a double pivot, the mid-block may shift into a 4-1-4-1, or even a 4-3-3 as Bruno gallivants back into the team's low-block. However, a compact 4-2-3-1 remains the dominant approach in all three defensive phases.
Martinez has been so outstanding that he has won nearly 80% of his tackles and 70% of his defensive duels. Casemiro also won 70% of his tackles despite attempting more than twice as many as the next highest player in the eleven (3.48 to 1.78) (Diogo Dalot).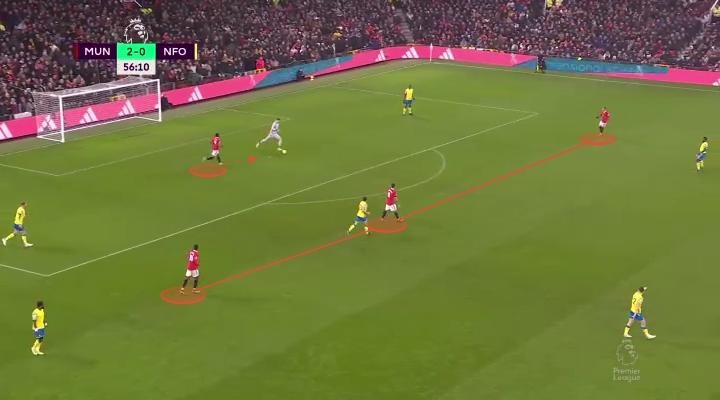 For the same reasons, the duo has also significantly improved the team in transition. Martinez will frequently set himself apart from the nearest player to ensure he wins the footrace, whereas Casemiro will cover for out of position fullbacks and shift wide at the appropriate times. Combine that with Eriksen's and Varane's experience and tactical acumen, and you have a Premier League title-challenging quartet on your hands.
Not only do you have a deft defence within Ten Hag's ranks, but you also have a greater sense of intensity within that warrior mentality that he's deployed. In recent years, the Red Devils have been chastised for a lack of backbone, genuine heart, and leadership. Those kinds of comments have all but vanished since a humiliating defeat to Brentford early in the season. Martinez, Antony, and Casemiro simply want the ball more than others in previous seasons, and United are now so quick to get numbers around the ball in their low-block, where it often matters the most.
Ten Hag has just gone about his defensive structures in such a clever way, even taking a more defensive approach at times to ensure he wins the match, going against his own tactical inclinations to dominate possession. This is impressive for a man who revolutionised positional rotations in a possession-heavy Ajax side, and it has paid off with six clean sheets so far.
Concluding Thoughts
They may only be fourth in the league right now, but Erik Ten Hag has gotten so much right since joining Manchester United, making all the big calls that United fans have been clamouring for in recent years. He's improved the team's defensive tactical structures through not only tactics but also personnel balance, while adjusting his own tactical inclinations to serve the counter-attacking brilliance of Marcus Rashford and Bruno Fernandes. The Red Devils are also the only team to defeat Mikel Arteta's Arsenal in the league this season, demonstrating that Ten Hag has remained astute in his match-day adjustments. No manager at Old Trafford has achieved this level of balance since Sir Alex Ferguson.

- Advertisement -