Bjarni Bjarnason, CEO of OR, sat down with Bergur Ebba Benediktsson in the third episode of Framtíðin.
Bergur Ebbi talks about the technological innovations that are around the corner and the challenges that stand in the way of their implementation in the episodes, which are prepared by Orkuveita Reykjavíkur. The third episode will be released today, but there will be a total of four.
"Electricity should be the cheapest at night and we want electric cars to be charged at night because then the load is the lowest in the system and it is by far the best the utilization of it, "says Bjarni. In the episode, Bergur Ebbi and I discuss, among other things, the introduction of smart meters at Veitur, one of OR's subsidiaries.
Exchange 160 thousand meters
Utilities signed the agreement at the end of last year and the implementation of the smart meters will begin this year – but needs to be replaced 160 thousand meters.
"Then we can have a continuous reading and follow our customers' usage patterns closely. We can also set prices within 24 hours and thus measure the price of electricity at any given time. In a dynamic market, which is what we aim for, we can fluctuate prices, "says Bjarni.
Electricity prices today are independent of load in the system and are therefore changed annually. Bjarni takes the example of an electric car that has 93 kw battery.
"Then you tell your car in the evening that it should fully charge overnight if the price drops below a certain level and if it rises by something. he should definitely stop charging. "
And Bjarni says that in this way you can even make money on the electric car when the owner is fast asleep.
" Because you drive because of course how the car behaves and can tell him to put all the electricity he has in the battery into the system if the price is rising, but not so much that you get to work the next day. So when you get there, of course you get in touch there. "
Above is a shorter version of the show than you can watch in full on Orkuveita Reykjavíkur's YouTube channel .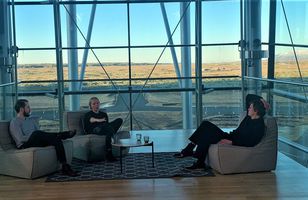 Sigurlína Ingvarsdóttir video game producer and Axel Paul Gunnarsson, specialist at Ljósleiðaran, sat down with Bergur Ebba Benediktsson in the episode Framtíðin.
Writer Andri Snær Magnason and Edda Sif Pind Aradóttir, CEO of Carbfix, sat down with Bergur Ebba Benediktsson in the first episode of Framtíðinn.
---
Note. Indicates readers to exchange views. All comments are the responsibility of the person writing them. Readers must adhere to a matter-of-fact and moderate discussion, and Vísir reserves the right to remove comments and / or discussions that go beyond those limits. The indicator will block the access of those who do not express themselves under their own name or repeatedly violate the above rules of conduct.
More news
See more