The men's long jump cup started tonight where two games in the A-division and two games in the B-division took place. Breiðablik won Leikni Reykjavík 4-0, Víkingur and KR drew 1-1, Þróttur Reykjavík won 4-3 over Fjölnir and Afturelding defeated Víking Ólafsvík 3-0.
It was especially hot in Kópavogur where Leiknir Reykjavík, who will play as newcomers in the Pepsi Max league next summer, visited Kópavogur. They did not receive a warm reception but the home team led with two goals in the half. Höskuldur Gunnlaugsson and Thomas Mikkelsen with the goals.
The visitors from Breiðholt bit off at the beginning of the second half and Sævar Atli Magnússon had a shot on goal when almost an hour had passed from the game. Davíð Ingvarsson, on the other hand, took advantage of the wind shortly afterwards when he scored directly from a corner kick and Viktor Karl Einarsson completed Bliki's victory with a good individual initiative towards the end of the game.
A confident 4-0 victory for Breiðablik which has gone well place in the new year.
In the same group Þróttur Reykjavík and Fjölnir met but they play in the Lengjudeild this summer. It so happened that Þróttarar won 4-3 in a great goal game.
Róbert Hauksson scored twice for the home team as well as the team's assistant coach – Sam Hewson – added one and Lárus Björnsson also. Guðmundur Karl Guðmundsson, Sigurpáll Melberg Pálsson and Hallvarður Óskar Sigurðsson scored Fjölnir's goals.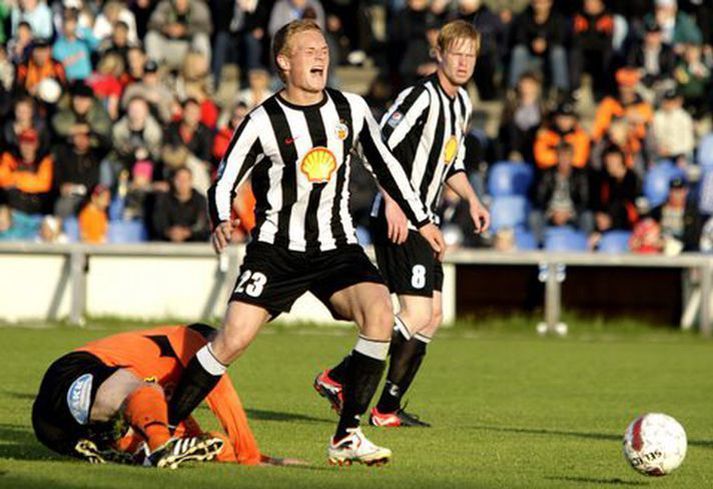 In Víkinn, KR-ingar were visiting and the game ended with a 1-1 draw. After a goalless first half, it was Guðjón Baldvinsson who brought the visitors from Vesturbær on 52. minute but Guðjón rejoined KR after the last season.
When three minutes were until the end of the game, Erlingur Agnarsson equalized for the home team and we sat there. Final score 1-1 and it is clear that KR-ingar bite their wrists for not holding out.
Then Afturelding won a convincing 3-0 victory over Víkingur frá Ólafsvík but both teams will play in the Lengjudeild next summer.