- Advertisement -
Christian Eriksen is progressing in his recovery from an ankle injury he sustained during the 3-1 FA Cup victory against Reading in January.

The Danish international's rehabilitation has been going really well, and he is on the approach of getting back into shape. Eriksen has been out for nearly two months due to Andy Caroll's ugly tackle during United's routine cup win at Old Trafford.
Erik ten Hag said that although initial predictions indicated the deep-lying playmaker might miss the rest of the campaign, he might soon join the team. When asked to provide an update on Eriksen's injury, the Dutchman said (as reported by The Metro):
"It's very positive. He has healed very quickly. I don't think he's ready for Sunday [against Fulham in the FA Cup], but he'll be ready in April.

"He's coming back, and we're happy about that. He's a class player that we need. I can't wait for him to be back."
In the Dutch manager's favoured double-pivot, Eriksen has been a critical element of his midfield setup this season, sharing the spotlight with Brazilian sensation Casemiro.
The Red Devils have relied on Fred to step in for the playmaker because Scott McTominay also suffered various fitness issues at the beginning of the year.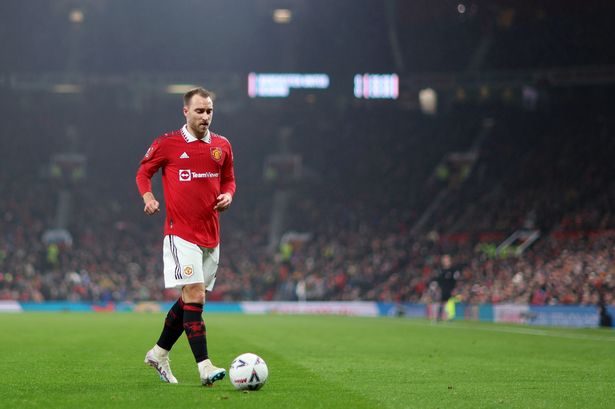 The former Shakhtar Donetsk player will find it difficult to adequately replace the Dane because the two have different personalities.
Casemiro is the lone midfield anchor now that ten Hag has to alter his formation due to Fred's recent performances. United may switch to a 4-2-3-1 as Eriksen will shortly return.
The former Tottenham Hotspur player won't be available for Sunday's FA Cup quarterfinal match against Fulham, in which the Red Devils will try to advance to another domestic cup final after winning the Carabao Cup.
Nonetheless, given United's impending challenges in local and international competitions, his comeback from injury might be perfectly timed.

- Advertisement -