- Advertisement -
As reported by the Express, the Spanish media has criticised Alejandro Garnacho for mocking Barcelona midfielder Pedri in his most recent Instagram post.

Last week at Old Trafford, the 18-year-old came off the bench to help Manchester United defeat Barcelona. Robert Lewandowski's goal for the visitors gave them the lead, but goals from Fred and Antony in the second half gave United the 4-3 victory overall.
As a result, Erik ten Hag's team will face La Liga side Real Betis in the Europa League's round of 16. Garnacho, a Madrid native, was overwhelmed by the victory, but his Instagram post infuriated Barcelona fans and the Spanish media.
Garnacho covered his eyes with his hands to imitate Pedri's signature "glasses" celebration, then posted a picture of the scene to his 4.6 million-follower Instagram account.
Alejandro Garnacho doing Pedri's celebration 👀🤭 pic.twitter.com/JacrRetV2C

— utdreport (@utdreport) February 23, 2023
The fans were not happy with the way Granacho mocked their midfield starlet. Due to a hamstring injury, Pedri was forced to skip the crucial Europa League tie on Thursday night.
The activities of Garnacho have generated negative headlines in Spain. Mundo Deportivo has stated this as "a gesture in extremely poor taste from an 18-year-old lad who hasn't been in elite football for very long".
Garnacho is having a breakout season at Old Trafford after joining United from Atletico Madrid in October 2020. In 26 games for Ten Hag's team, United's current Young Player of the Year has scored three goals. Last year, he also took home the FA Youth Cup.
Yet, Garnacho is also emerging as a key player. Although it is believed he is close to a new contract, the talented player has not yet pledged his long-term future to United, and Ten Hag has questioned his attitude following a 3-0 home victory over Sheriff Tiraspol in October.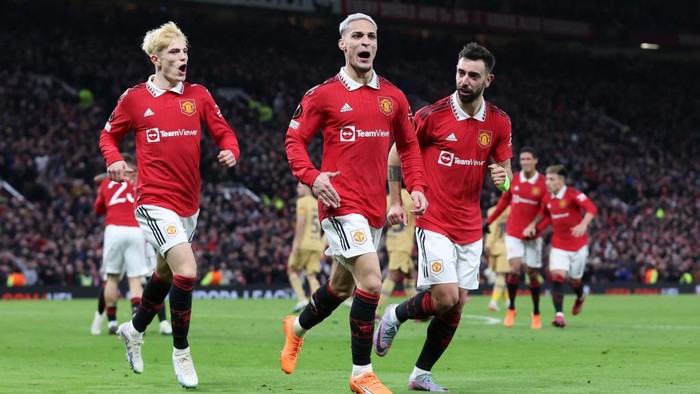 Another big question is how Garnacho will fare internationally. He was born in Madrid and played for Spain at the under-18 level before deciding to play for Argentina, the nation of his mother's birth.
Even though he hasn't played yet, he was called up to the senior squad in March. However, Spain is still working to lure him back to his native country.

- Advertisement -