- Advertisement -
It was a picture to warm the hearts of Manchester United supporters ahead of the January transfer window.
Bruno Fernandes smiling and shaking hands with Joao Neves? This is certainly a sight the Red Devils supporters would be happy to get used to, Fabrizio Romano reporting that Bruno's fellow Portugal international is becoming a leading target for a Manchester United side who, by the time the winter rolls around, could have Paul Mitchell and Sir Jim Ratcliffe pulling the strings.
"Understand Manchester United scouts were in attendance at the Benfica game vs Sporting to follow Joao Neves," Romano writes on X. "The Portuguese midfielder born in 2004 is being monitored by Manchester United's scouting department.
"(United are) waiting for board changes to make future decisions."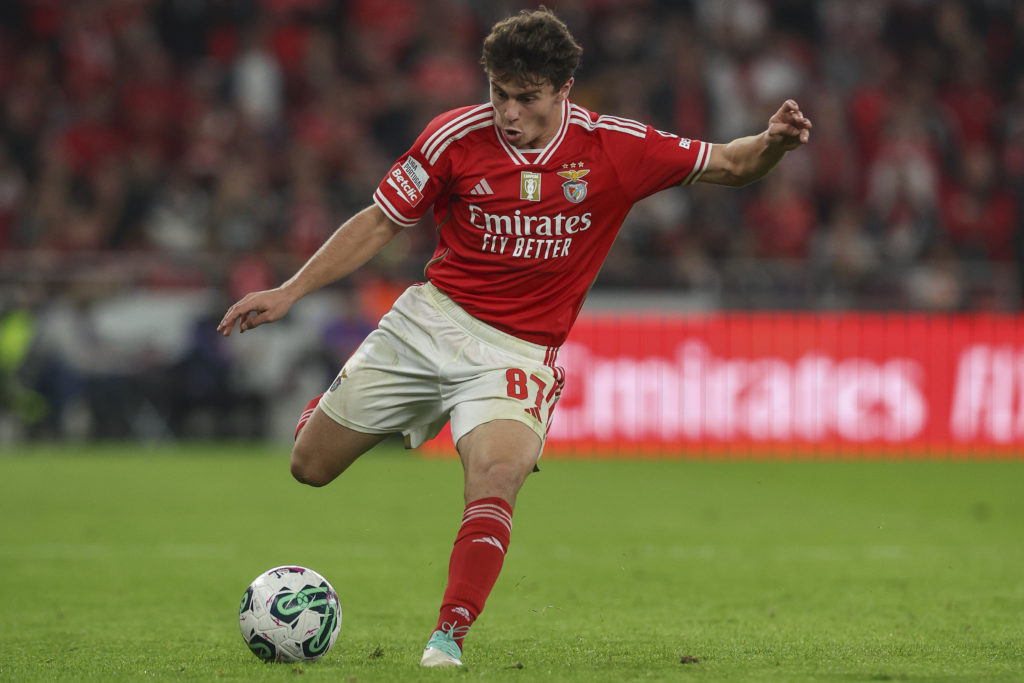 Manchester United eye Benfica's Joao Neves
Alongside Valencia's Javi Guerra and Royal Antwerp's Arthur Vermeeren, 19-year-old Neves is another highly-talented, and highly-technical, young midfielder on the radar of a United side who may soon be ready to move on from the likes of Casemiro and Christian Eriksen.
Neves, silky and stylish, has been labelled 'Bruno Fernandes 2.0' by some. And, if the latter is join the former at Old Trafford, a couple of days together in the Portugal camp during the November international break could be the beginnings of a beautiful partnership, Neves and Fernandes already looking like two men getting on like a house ablaze.
"Agent Bruno putting in the work?" the popular United Peoples TV wrote on X as pictures of Fernandes greeting Neves with a smile as wide as the M62 emerged on social media.
MORE UNITED STORIES
"Joao Neves, Andre (Trindade), Bruno, I'll be there," adds one excited supporter.
"I'm locked in. Bruno and Joao Neves prop on international duty incoming," writes another.
'Perfect Eriksen replacement'
Neves is less of an out-and-out creator, at least in comparison to Bruno. Instead, he does much of his best work as something of a link between midfield and attack, his cultured use of the ball and his impressive vision leading one to wonder if the teenager could be the 'perfect, long-term Eriksen replacement'.
"The reports of Manchester United looking at Joao Neves is very exciting," he adds. "If its true, then he is a great player to look at."
Related Topics
- Advertisement -