- Advertisement -
Antonio Nusa's reputation continues to grow with the Club Brugge wonderkid showing why Premier League giants Manchester United want him with a 'remarkable' cameo appearance during Norway's 4-0 hammering of Cyprus on Thursday.
Antonio Nusa, in the words of former football-turned-pundit Jesper Mathisen, 'accomplished more' in his first few seconds on the pitch than Ole Solbakken – the man he replaced in the second half – managed in the previous 62 minutes put together.
In typical Nusa style, the 18-year-old came off the bench for Norway and immediately changed the game. Reporter Pieter-Jan Calcoen believes Manchester United have already set their signs on the 18-year-old, and this latest dazzling display will have done his hopes of a big-money move to one of Europe's biggest clubs no harm at all.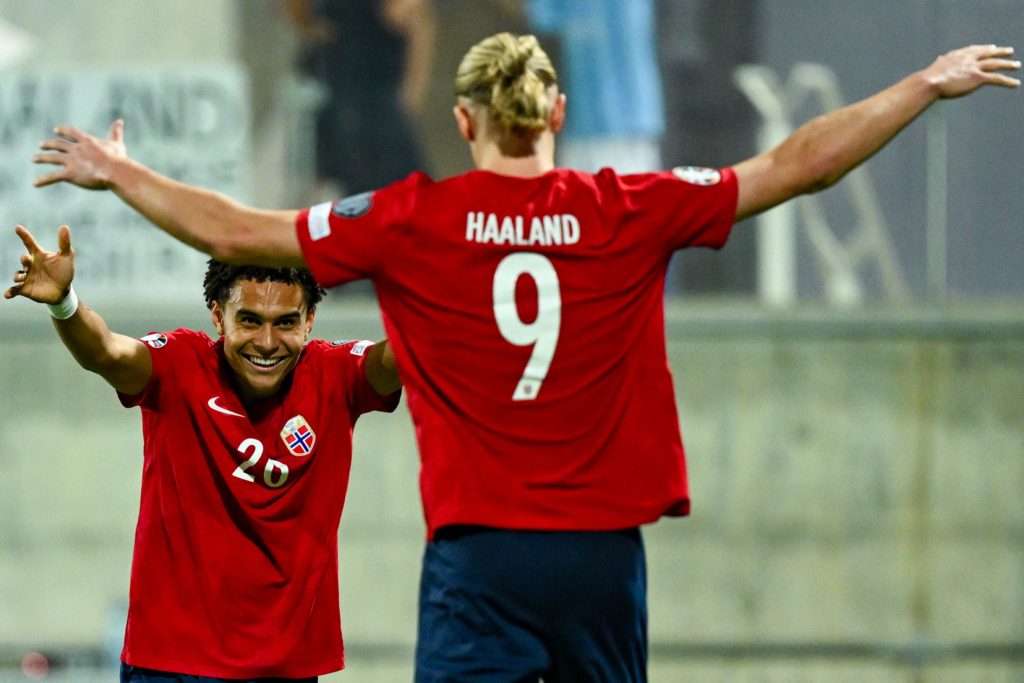 Manchester United target Antonio Nusa shines again
"He has accomplished more in the first minute than Ola Solbakken did in 62 minutes," Mathisen
tells TV2, Nusa assisting Erling Haaland moments after entering the pitch.
"Haaland can only smile and laugh when he has got a waiter like Antonio Nusa in the frontline!
"It is remarkable how much he has created since he came on," adds commentator Oyvind Alsaker.
Nusa, valued at around £23 million, turned down a move to Chelsea over the summer.
MORE UNITED STORIES
Even the most optimistic Club Brugge supporter would have to accept, however, that the teenager is likely to be on his way sooner rather than later, rapidly outgrowing the relatively small pond that is Belgian football. 
The expected January departure of Jadon Sancho, meanwhile, could be the catalyst for a potential move to Manchester United.
'Similar to Neymar'
"I can see similarities to Neymar in Nusa's movements and in the way he uses the ball," his former team-mate at Norwegian outfit Stabaek, Mats Solheim, tells Goal.
"There is still a small gap between them. But he can get there (and reach Neymar's level)."
- Advertisement -