- Advertisement -
As the second international break of the season commences, we have listed our first Manchester United power rankings of the season.
So far, this season has been an embarrassment for Manchester United, losing more matches than we have won.
Every win seems only a temporary reprisal from the impending defeats, such as the win against Burnley and Crystal Palace in the cup, which was followed by new lows.
That made making these power rankings a difficult task with very limited options. But here is our top 10…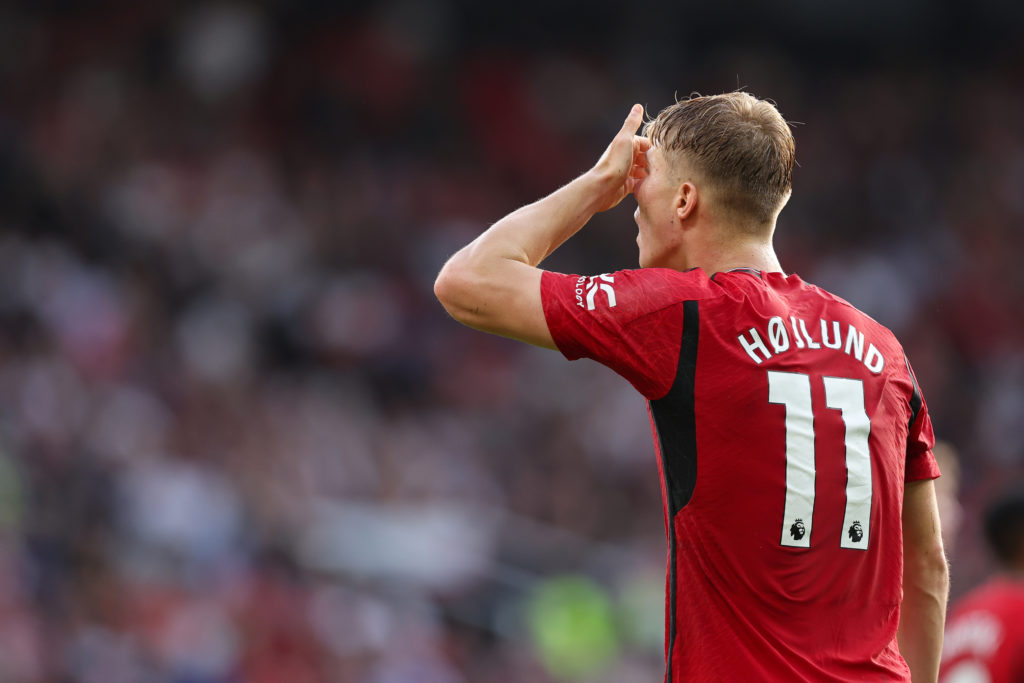 1) Rasmus Hojlund
Manchester United's number 11 is one of the most positive aspects of this season so far.
Still awaiting his first goal in the Premier League, Rasmus Hojlund has been unstoppable in Europe with three goals in two Champions League games.
His movement, pressing and link-up play has been lauded with praise and it seems to be a matter of time before he grabs his first in the league. First place for Hojlund.
MORE UNITED STORIES
2) Diogo Dalot
In lieu of Aaron Wan-Bissaka, Diogo Dalot has recaptured his pre-2022 World Cup form.
Quickly becoming one of the most consistent and important players for Erik ten Hag, Dalot has done a job everywhere he has been called upon.
His technical ability makes him a far better option than AWB at right-back, and seems to be improving in leadership and understanding of the game, week on week.
3) Bruno Fernandes
Bruno Fernandes hasn't been at his own high standards this season thus far, but his numbers speak for themselves.
He has two goals and two assists this season, while playing often out of position on the right side.
Bruno has created six big chances as reported by SofaScore in all competitions this season, which shows his assists largely under represent his form.
4) Raphael Varane
In fourth place, Raphael Varane's importance to this side cannot be understated.
Varane has been excellent defensively amid what has been a crisis in the department. Injuries have plagued the defence with Varane not immune, but he has been so good when fit.
Defence is definitely an area of importance in the upcoming transfer window, with Varane needing support, as Lisandro Martinez continues to suffer from injuries.
5) Hannibal Mejbri
One of this seasons biggest surprises, Hannibal Mejbri burst onto the first team stage with his incredible strike against Brighton in the 3-1 defeat.
Since then he has been a regular and performed as such across the midfield with many believing he deserves even more playing time.
6) Casemiro
Manchester United's player of the month for September, hasn't really earned the right to be higher than sixth.
Four goals and one assist paint a picture that he has been incredible, and he has at pulling goal contributions out of his hat. But off the ball, Casemiro remains a problem for United.
Despite that, he is currently the club's top scorer and that counts for something.
7) Mason Mount
Mason Mount struggled early on, before getting injured after the Tottenham loss.
Since his return last month however, Mount has been really good and his relentless pressing, intensity and progressive play have been a huge improvement for United on Christian Eriksen in the same position.
Seventh place is fair for Mount, but we do envision him improving as the season goes on.
8) Sofyan Amrabat
Signed on deadline day, Sofyan Amrabat has been deployed largely as a left-back in his early Manchester United career to-date.
Here his on-ball quality has been praised as he very rarely misplaces a pass or loses possession in general.
Moved into midfield v Brentford, primarily in the second half after Casemiro's withdrawal, he was excellent.
Both on and off the ball he was so solid and could find himself displacing the Brazilian in the next few months.
9) Marcus Rashford
Marcus Rashford hasn't had the start to the season he would have wanted.
After such a dominant season last year, he just hasn't looked the same here which has seen calls for a more impactful Alejandro Garnacho to take his place.
Just one goal this season, assists have been Rashford's main contribution. Most memorably his brilliant cross for Hojlund's first v Galatasaray.
10) Jonny Evans
10th could have been a number of players, with special mention to Harry Maguire. But Jonny Evans just tips him for us.
Consistent when he has featured and a brilliant assist for Fernandes v Burnley showcased his passing abilities.
Definitely a short-term option but we are delighted with how he has done so far.
Related Topics
- Advertisement -